WHY OUR CUSTOMERS WORLDWIDE LOVE THIS PRODUCT?
THERE'S A REASON FOR IT & WE'RE SURE YOU WILL AGREE TOO!
Washing your face and hands can become messy when your faucet has a strong flow of water. This makes it a nuisance and inconvenient especially when water goes to the floor, wetting the carpet and even your shoes.
Since most faucets have a fixed style, you can find it extra difficult to clean the sink especially hard to reach areas like behind the faucet.
Feature
360° two-way faucet filter that can be rotated at will. Two modes of water can be obtained by rotating, making it more convenient to wash your face, rinse your mouth and wash the basin…
*please measure the size of your faucet before purchasing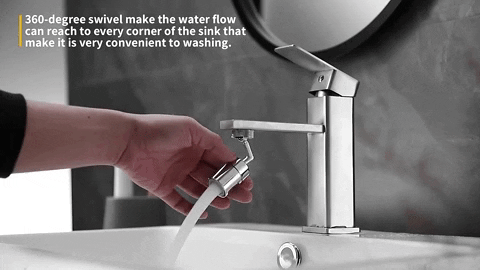 360 Degree rotation
Rotate the water outlet 360 degrees, which can be adjusted to any angle to facilitate cleaning of tableware, fruits and vegetables, as well as washing your face, gargle, etc. more convenient!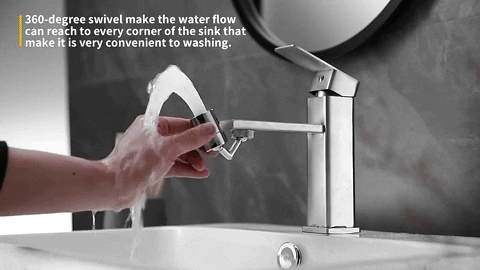 Splash filter faucet introduces air into the water flow, producing a larger water flow, which is soft to the touch and does not splash. This product is made of durable material, suitable for dining room, laundry, and backyard, it can be used for sink faucet, kitchen faucet, bathroom faucet, etc.
Easy to install
(1).Internal thread is 24mm, diameter is round mouth faucet,can install directly. (2).External thread is 22mm, diameter is round mouth faucet,can install directly. (3).For round-spout faucets with an external thread diameter of 22mm or an internal thread diameter of 24mm, both can be installed directly. please buy M22 to M24 adapter. (4).For 15-22mm non – threaded or external – threaded faucets, please buy universal adapter.
Two outlet modes
Soft bubble stream and strong sprayer shower.
Safe and user-friendly design





Hundreds of our customers can't get enough of the faucet swivel spray because they can embrace the benefits of washing the face without making any mess.